CORES        COMPLEMENTARY MATERIALS        FABRICS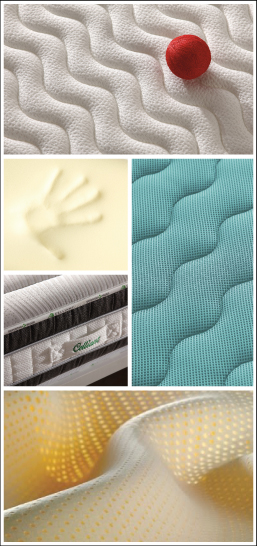 We use a large amount of first-rate, sustainable and healthy raw and natural materials which together comprise the perfect formula for ensuring a full sleep.
Our cores are composed of foams such as eliocel, HR, latex, Eurolatex™, pocket spring, dual-cone,  spring, Supracell™, Energex™, Ecofoam™, Coolgraf™, etc, which, combined with memory foam, guarantee a comfortable and healthy sleep.
The highlights of our visco-elastic materials are pocket micro-springs, Fresh Gel, cotton, wool, silk, seaweed and horsehair.
In order top achieve the best finish our fabrics provide added value to complete an ideal sleep solution. Our most noteworthy fabrics include aloe vera, bamboo fabric, Bayscent lavender flower aromatherapy, stretch fabric, natural cotton, damask fabric, Celliant fabric™, cell activating fabric and fireproof fabric.
Have a look at our cores, fabrics, memory foams and the many combinations of the same.
You can also view a sample of how to combine the materials inside the mattress or decide to Personalise your mattress in any manner you want.